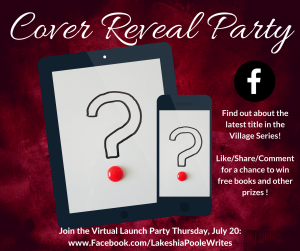 I'm excited to announce the release of the next book set in the crazy world of Aurbor Grove, Georgia! It's been a while since we've visited the campus of AGU. All I can say right now is…I'm taking things up a notch ;).
Book number 3 in The Village Series will have all the hallmarks — authentic characters, engaging and entertaining storytelling that will keep you on the edge of your seat!
To celebrate, I'm throwing a VIRTUAL Cover Release Party on Thursday, July 20. That's right, it will happen ONLINE. No need to get dressed up or step out the house, you can pop in on Facebook, scroll and click. THAT'S IT! How can you join in?
Stop by my Facebook fan page, www.Facebook.com/LakeshiaPooleWrites, on Thursday, July 20.
Check out my posts about the new book. Throughout the day I will share sneak peeks at the cover, descriptions, and other behind-the-scenes details.
When you see a post, comment/like/share for a chance to win a prize.*
Haven't had a chance to read Don't Let Me Fall or Exes and O's — the first two books in The Village Series? Stop by the SHOP. 
*Winners will receive a direct message with details about claiming their prize. Prizes must be claimed within 72 hours.