I'm excited to introduce the next installment in The Village Series, You Only Live Once. 
This new tale expands the Village universe beyond AGU's campus and takes readers on a crazy journey of redemption and restoration.
I want to have fun writing. Don't get me wrong, the process is grueling. BUT with The Village Series, I feel like I can break the rules and mix up genres–romance, suspense and inspirational. I get to show people LIKE ME and my family/friends. I share a 360 view of college life. I let go of preconceived notions of what/who is considered good/bad. So on the surface, my new book is a classic good girl/bad guy tale, but there's so much more to their stories…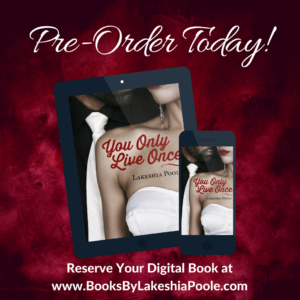 Transferring to Aurbor Grove University was a big mistake. Karma Juarez knows this for sure. Unbeknownst to her sister, their 'girls night out' to the grand opening of a new lounge is her personal farewell to the college. She can't wait to get away, but a walk down the wrong alley at the wrong time draws her into the middle of a dangerous street feud that almost costs her life. Now, she can't shake the traumatic night — or the man who saved her — from her mind and heart.
Ezekiel "Zeke" Oliver abandoned his religious upbringing for riches years ago. Then, a close encounter with death leaves him wondering: is redemption still possible? After a chance cell phone recording catapults him into a viral video sensation, Zeke attracts good and bad attention. While he's set to capitalize on the moment and start a new chapter, enemies from his past plot to destroy everything he loves – his family, his woman, his life.
You Only Live Once is the third book in The Village Series.
PRE-ORDER YOUR DIGITAL BOOK TO GET 25% OFF THE RETAIL PRICE!!