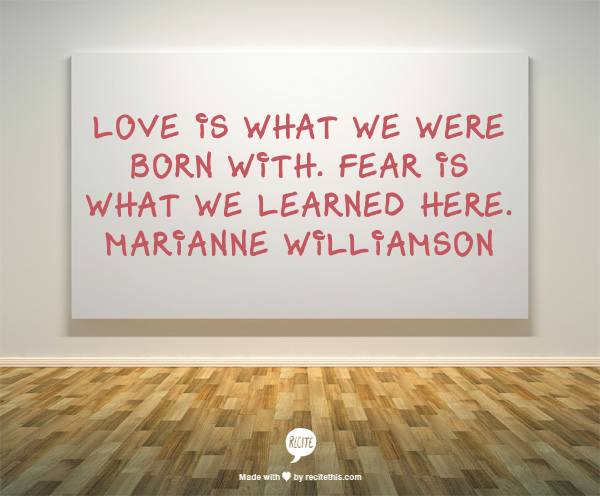 I haven't read any of Marianne Williamson's books, but I have read been completely motivated/transformed/inspired by her quotes. I'm thinking about checking out her latest devotional, A Year of Miracles and wanted to highlight her as my Storyteller of the Week. No, she's not a fiction writer, but her words breathe life into the story of our very lives–what's more important than that!
You're probably familiar with this gem–in whole or part–I highlighted on my Rise and Shine post:
Our deepest fear is not that we are inadequate. Our deepest fear is that we are powerful beyond measure. It is our LIGHT, not our darkness that most frightens us.' We ask ourselves, Who am I to be BRILLIANT, gorgeous, talented, and fabulous? Actually, who are you not to be? You are a child of God. Your playing small does not serve the world. There is nothing enlightened about shrinking so that other people will not feel insecure around you. We are all meant to SHINE, as children do. We were born to make manifest the glory of God that is within us. It is not just in some of us; it is in EVERYONE and as we let our own light SHINE, we unconsciously give others permission to do the same. As we are liberated from our own fear, our presence automatically liberates others." 

MARIANNE WILLIAMSON
Unsurprisingly, I fell in love with this quote she composed about fear. At some age, some crisis we convinced ourselves that reacting in fear is the norm. Absolute faith in the uncertain and impossible isn't reality, but just a bunch of feel good words. As you know with my Faith Beats Fear series, I completely disagree!! So much around us–TV, friends, family, circumstances, Facebook, rumors–TEACHES us to fear. Spend 30 minutes watching TV and anchors/actors/reality shows will convince you that your're surrounded by haters, your mate is probably cheating, you're bound to lose your job soon, someone may kick in your door and kill you and they'll never find the body. Negativity has been misinterpreted as reality. 
There have been many times in my life I've faced a crossroads–flight or fight kicks in, my adrenaline is pumping and I have NO IDEA WHAT I'M GOING TO DO. Freaking out is so much easier than telling myself that things will work out for the best when the worst is staring me right in the face. People around me proclaim the worst will surely happen, it always does. This is the real world, remember?
I continue to learn how to train my mind, heart, soul, and body to react in faith:
I take a deep breath.
I quote a scripture or something inspirational.
I remember the heartbreak, disappointments, failures, and amazing adventures God has brought me through already. I got this!
I ask what's the worst that can happen. Is it bigger than God? Nope.
I ask Him what I should do or let Him know I have no idea what to do.
A group of small choices, mini-actions have helped me to re-train myself to trust fully and return to the way God made me–powerful, loving, and intelligent.
For God hath not given us the spirit of fear; but of power, and of love, and of a sound mind. – 2 Timothy 1:7