What "They" Don't Tell You About College
Advice from a "first generation" college graduate
I didn't have any close family members to help guide me before or during my college experience, so much of what I expected was based on television (ala A Different World and Felicity). Outside of that, I had this often stated mantra in the back of my mind: you go to college so you can get a good job. It was a means to an end that sounded a little "too good to be true" to me. So when I started, I embarked on a journey of finding my own purpose for college.
They don't tell you about the self-exploration.

Those core classes aren't throwaways—they're baby steps to the rigor and challenges of college courses. They're also a wonderful way to experiment and get a better sense of what should be your major.
I started UGA as a Political Science (Pre-Law) major. I got a taste of various paths through introductory classes that served as electives during my first two years.  I was a work study student at the Grady College of Journalism. I asked my boss if I should change my major to Marketing, Public Relations or Advertising, because I really enjoyed those classes. When she said, "you have to love writing to major in PR," I was SOLD!
Growing up in a small town, I didn't know ANY marketing and public relations professionals—I didn't even think the job existed! Stumbling on this potential path my sophomore year truly set the stage.
It's not a popular opinion, but I cringe a little at the campaign to put kids on a career track in high school, whereby they can start college as juniors. I get it. College is super expensive and you can save. But…the beauty of freshman year is that you all get to awkwardly figure this thing out together (which leads to lifelong friendships).
The activities outside of the classroom were also very valuable: Long SGA meetings and disappointing campaign runs. The University Union meetings arguing over discussing budgets and marketing. The WUOG radio station giving me and my co-hosts the space and a microphone to discuss "Minority Matters" with complete honesty. The pep talks between classes with various staff members at the College of Journalism. Debating points with Sociology professors during office hours or at the student center. Making movies with my friends during Campus Moviefest.
They don't tell you about the network.
During my job hunt senior year, I interviewed at a PR firm in Atlanta. As I was leaving the office, I ran into my classmate from a campaigns class. She'd been working there for a few months. There's no doubt in my mind that her vouching for me helped me land the job. Once I started, I worked on a really big account for our office and my client—she too had been in my campaigns class! Your classmates are your future colleagues and customers.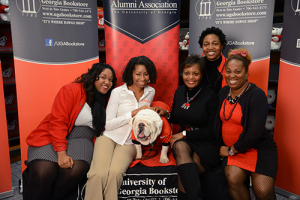 Beyond the job opportunities, the Alumni Association has been instrumental in supporting me as an author and with professional development programs. Honestly, when I graduated, I thought it would be more of an attitude of "off you go" and less "we're sticking with you FOREVER" from my alma mater.
Being an alumna has been like admission into a club I didn't know existed. Whenever I come across fellow alumni, I often hear the statement: "Let me know if I can help you." And they mean it. I've gotten introductions, business leads, invitations, discounts, etc. simply because I say, "Oh, you went to UGA, too?"
When I look around at my classmates, everybody seems to be doing something. And it's not just about money, but they're making a difference in their communities. I'm not jealous, but it makes me want to do great things too. We push and support each other at the same time.
Nope, nobody told me about all of this. So instead of telling my young mentees or children to go to college with the expectation that you will automatically get a good job, I tell them, go to college so you can:
Figure out who you are and what you're good at by doing a lot of stuff.
Figure out what you enjoy by doing a lot of stuff.
Figure out how to get paid for that by doing it a lot.
*Also, don't rush it because college is fun and adulthood is nothing but bills, LOL.